Search
Search Criteria
Products meeting the search criteria
*Pre-Order* 92-97 Subaru Alcyone SVX TSP Tru-Cool 2" dual row aluminum performance radiator (TC-SU-2ALRAS)
Pre-Order for the TSP Tru-Cool 2" dual row aluminum performance radiator has begun!
SVX owners! If you're like me, you are tired of the run around and wondering if you can ever get a radiator to replace your cracked or dying OEM model.
Never fear though, TSP is here to rescue you! Like they say if you want something done properly, do it yourself!
So, we have decided to go forward with our TSP Tru- Flow Radiators. This will be a high quality 2" dual row high performance bolt up replacement radiator, compatible with factory fan shroud or optional upgraded aluminum shroud with slim dual 10" fans. It will also have a cooler that can be used for AT, oil, turbo, etc.
What is a simple reason to go TSP Racing? We can give you an actual ETA, you can reach us on Facebook, email, phone etc. You know you will get a quality product that you can trust!
What do we need to get this going?
- a minimum of 16 radiators pre-ordered 
$380 for radiator and $525 with shroud.
- 60-90 day production time for original batch. 
- installation pics and reviews by first customers
Now, if we are able to get 25 pre-ordered we can do $300 for radiators and $420 with shroud for those first 25 orders! What a GREAT DEAL!
The best part! This is not an item where it takes a year for each set! You don't have to wait for 10 people to order one to be able to get it either!
Once the initial batch is done, this will be an item that is readily available, on the shelf, and will ship to you within 2 business days!

All we are asking for right now is a commitment. If we are able to get 10 committed parties we will be able to begin production of this item right away! If we are able to get 25 initial orders the first 25 customers will get the product for a steal of a deal!
By placing your pre-order you agree to pay the amount listed for the item once we reach enough participants. Without this these products will not be produced. We know that sometimes it can be scary investing in a product that hasn't come out yet, that's why we have given you the option to commit now and pay later!
Place your order today and be one of the first to receive this great product from TSP Racing!
12-16 Scion FR-S / 12+ Subaru BRZ/17+ Toyota 86 GrimmSpeed Head to Exhaust Manifold Dual Port Gaskets (020001)
These are the Grimmspeed  Head to Exhaust Manifold Dual Port Gaskets. These particular gaskets see some of the highest temperatures than any other gasket on the engine. With that being said anytime you remove your exhaust manifold for maintenance or for upgrades, make sure that your exhaust gaskets are in good shape to avoid exhaust leaks which can create more labor for you or your mechanic. Although the factory gaskets are made of metal materials, they can come apart upon removal.
Grimmspeed relieves this issue with a set of Exhaust Manifold Gaskets crafted from quality metal materials to promote a good exhaust manifold seal. These are sold as a pair and will come ready for the installation. 


Material:
Stainless Steel
---
Mfgr. Warranty:
Limited Lifetime
Mazdaspeed Corksport Dual VTA Bypass Valve (GEN-6-456-10)
The CorkSport Dual VTA BPV provides features and performance to suit stock cars and on up to big turbo high power setups. The CorkSport Dual VTA BPV holds 50psi, responds in 50 milli-seconds, and won't stall your car coming to a stop at idle. All this comes in a compact design with nozzle adjustability to allow for easy installation in even the most cramped engine bay or with custom piping. #ZoomZoom!
Check out the installation instructions below. Share your performance review with the CorkSport community once installed!
---
The CorkSport Advantage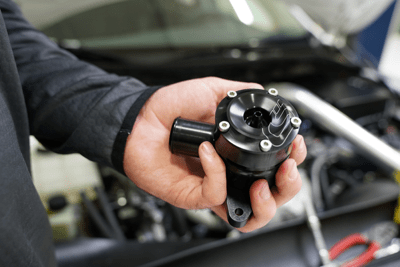 Responsive Performance
The CorkSport Dual VTA BPV responds as low as 50 milli-seconds keeping pressure in check and the turbo spinning freely. This is made possible with a few key features:
The piston weighs a mere 38 grams with the O-rings installed which reduces the required force (and therefore time) to accelerate and move the piston.
The piston and body design work together to minimize the chamber volume at the top of the piston. With the smaller volume there is less air to be removed before full vacuum is present, reducing the amount of time needed to start moving the piston upward.
---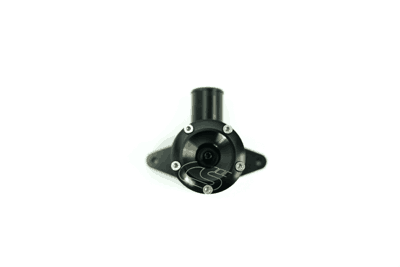 No Leaks
O-rings are used for all critical sealing interfaces to provide a valve that can stand up to the pressure and has been tested to 50psi.
---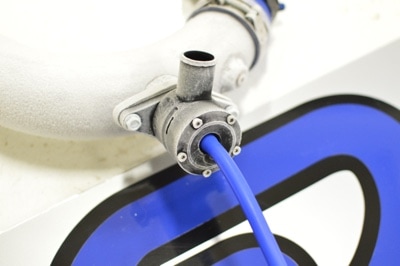 Dual VTA-Bypass Design
The VTA design of the CorkSport Dual VTA BPV allows the valve to function as a normal full recirculation design for most daily driving situations; essentially during minimal boost pressures and light throttle lift-offs.
The VTA ports will then be utilized for medium to high boost and abrupt throttle lift-offs. The higher boost levels cause a larger pressure differential between the intake manifold and charge pipe during throttle close, resulting in the BPV piston moving further, opening the VTA ports.
---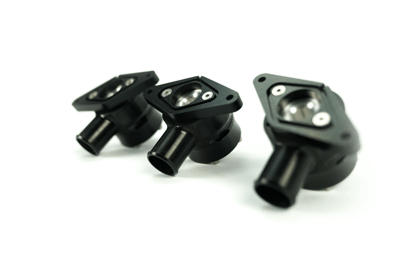 Flexible Design
Standing just 2.5" tall, the CorkSport Dual VTA BPV is compact which is great for compact engine bay and custom intercooler piping. The VTA BPV also features and integrated hose port to reduce the chance of leaks and lost parts.
The nozzle features 3-way adjustability allowing the nozzle to point 15 or 30 degrees off-center.
---
Additional Features
Materials & Manufacturing:

 

All designed components are CNC machined from 6061-T6 and anodized for long lasting durability then bolted together 18-8 stainless steel hardware.
Serviceable Design:

 

What good is a performance part if you can't properly take care of it? The CorkSport Dual VTA BPV can easily be disassembled, cleaned, and re-greased for long lasting performance.
Compatible with:

 

MZR DISI Engine found in Mazdaspeed 3, Mazdaspeed 6, and CX-7
Any Climate:

 

Tested to sub-zero temperatures to ensure operation in extreme conditions.
Engineered in America:

 

Designed and Manufactured in Vancouver, Washington, in the Pacific Northwest.
CorkSport Service & Support:

 

2 year limited warranty, full color installation instructions, all necessary components, and knowledgeable telephone support at (360) 260-2675.
How To Install Your CorkSport Dual VTA BPV
It will take you 30 minutes to install the CorkSport Dual VTA BPV with our easy-to-use instructions.

30 Minute Install Time

2/5 Difficulty

2-Year Warranty

No CEL