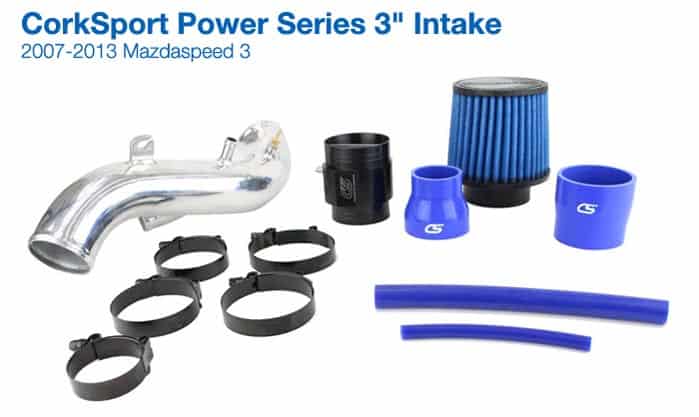 ** MAF recalibration with

 

Accessport

 

is required for product installation.**

 
Dramatically reduce intake restrictions and get an impressive improvement in power throughout the entire RPM range with the CorkSport Mazdaspeed Power Series 3" Intake System.
The Mazdaspeed True 3" Intake System is fabricated with a high polished 3 inch turbo inlet pipe and a true 3" inside diameter MAF housing. The velocity stack design smooths air flow for maximum performance. If you plan on upgrading or have already upgraded your turbo this upgrade is a must to keep your MAF sensor functioning within its calibrated range.

 

Up to a 35% increase in air flow over the OEM Maf housing.


Designed Specifically for Mazda:

 

All CorkSport parts have been designed and tested specifically for Mazdas.
True 3" MAF:

 

Machined with a True 3" inside diameter MAF.
Turbo Inlet Pipe:

 

A precision high polished 3" aluminum turbo inlet pipe..
Velocity Stack Design:

 

Smooths the incoming air flow and increases the flow rate of air and reduces turbulence.
Durable Dry Flow Air Filter:

 

Reusable and water resistant, this unique non-woven filter media does not require oil to filter and trap dirt and actually sheds dirt under engine vibration unlike cotton-gauze which holds contaminates until you clean the filter.
Custom Reinforced Silicone Connectors:

 

Constructed from multi-layer nylon braid to provide more strength and power and a smooth internal transition for less turbulence and optimal flow.
Upgraded Turbos:

 

Highly recommended for Mazdaspeeds with upgraded turbos.
CorkSport Service and Support:

 

Receive a 2 year warranty, full color installation instructions, all of the needed installation hardware, and knowledgeable telephone installation support.

** 07-09 Mazdaspeed 3 and Mazdaspeed 6 must make ecu or battery modifications for fitment.
** Does not fit with CorkSport cold air box.
** This system is not CARB approved..


** MAF recalibration with

 

Accessport

 

is required for product installation.**

 
** MAF Calibration Instructions