Turbos - Superchargers
Mazda Damond Motorsports Turbo Oil Restrictor Banjo Bolt (DMMTORBB)
Product Details
The Damond Motorsports Turbo Oil Restrictor Bolt, reduces the oil feed to the factory K04 turbo, to help in preventing the common Mazdaspeed "smokey-turbo." Using proven and tested hole diameters, the Damond Motorsports bolt allows proper oil feed to the factory K04 turbo, without over-oiling the turbo, and prevents oil seeping past the turbo seals into the exhaust. In addition 2 new OEM spec copper crush washers are included. This is a great, low-cost component, if you're looking to add a catless or more free flowing exhaust that would potentially result in more exhaust smoke. 
TQ spec is 18-26 lbs/ft
Mazdaspeed Corksport Dual VTA Bypass Valve (GEN-6-456-10)
The CorkSport Dual VTA BPV provides features and performance to suit stock cars and on up to big turbo high power setups. The CorkSport Dual VTA BPV holds 50psi, responds in 50 milli-seconds, and won't stall your car coming to a stop at idle. All this comes in a compact design with nozzle adjustability to allow for easy installation in even the most cramped engine bay or with custom piping. #ZoomZoom!
Check out the installation instructions below. Share your performance review with the CorkSport community once installed!
---
The CorkSport Advantage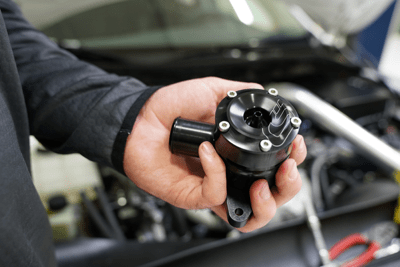 Responsive Performance
The CorkSport Dual VTA BPV responds as low as 50 milli-seconds keeping pressure in check and the turbo spinning freely. This is made possible with a few key features:
The piston weighs a mere 38 grams with the O-rings installed which reduces the required force (and therefore time) to accelerate and move the piston.
The piston and body design work together to minimize the chamber volume at the top of the piston. With the smaller volume there is less air to be removed before full vacuum is present, reducing the amount of time needed to start moving the piston upward.
---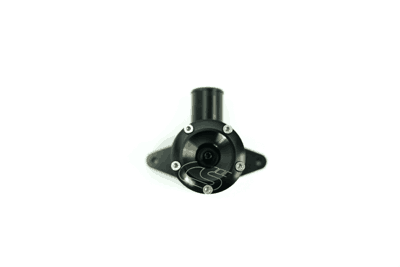 No Leaks
O-rings are used for all critical sealing interfaces to provide a valve that can stand up to the pressure and has been tested to 50psi.
---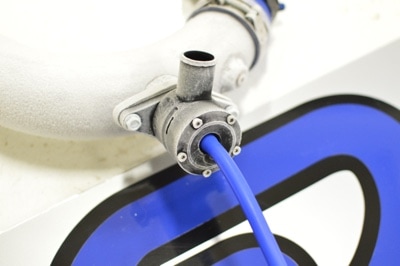 Dual VTA-Bypass Design
The VTA design of the CorkSport Dual VTA BPV allows the valve to function as a normal full recirculation design for most daily driving situations; essentially during minimal boost pressures and light throttle lift-offs.
The VTA ports will then be utilized for medium to high boost and abrupt throttle lift-offs. The higher boost levels cause a larger pressure differential between the intake manifold and charge pipe during throttle close, resulting in the BPV piston moving further, opening the VTA ports.
---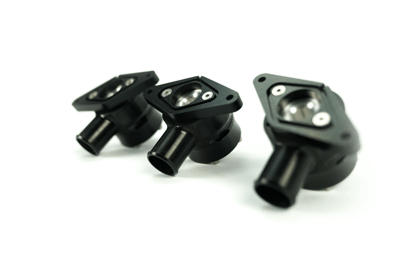 Flexible Design
Standing just 2.5" tall, the CorkSport Dual VTA BPV is compact which is great for compact engine bay and custom intercooler piping. The VTA BPV also features and integrated hose port to reduce the chance of leaks and lost parts.
The nozzle features 3-way adjustability allowing the nozzle to point 15 or 30 degrees off-center.
---
Additional Features
Materials & Manufacturing:

 

All designed components are CNC machined from 6061-T6 and anodized for long lasting durability then bolted together 18-8 stainless steel hardware.
Serviceable Design:

 

What good is a performance part if you can't properly take care of it? The CorkSport Dual VTA BPV can easily be disassembled, cleaned, and re-greased for long lasting performance.
Compatible with:

 

MZR DISI Engine found in Mazdaspeed 3, Mazdaspeed 6, and CX-7
Any Climate:

 

Tested to sub-zero temperatures to ensure operation in extreme conditions.
Engineered in America:

 

Designed and Manufactured in Vancouver, Washington, in the Pacific Northwest.
CorkSport Service & Support:

 

2 year limited warranty, full color installation instructions, all necessary components, and knowledgeable telephone support at (360) 260-2675.
How To Install Your CorkSport Dual VTA BPV
It will take you 30 minutes to install the CorkSport Dual VTA BPV with our easy-to-use instructions.

30 Minute Install Time

2/5 Difficulty

2-Year Warranty

No CEL